Tissue Requests and Project Submissions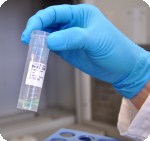 Applications to obtain samples from Tayside Biorepository should be submitted electronically, via this website, as explained. Anonymised clinical data on each patient sample can also be provided. Submissions should contain sufficient detail regarding their purpose in order to allow the TBR Review Committee to make a full and proper assessment of the scientific and technical merit of the project and the anticipated benefit. If and when approval is received for a given project, accession to material from the Bank is dependent on the researcher agreeing to the terms and conditions laid down by the TBR Management Committee.
Prior to submitting a Tissue Request applicants are advised that they require to have the support of a local (i.e. Tayside) clinician and pathologist so that the Bank can ensure material of the appropriate type and quality is provided. If you need assistance with enlisting the help of a Tayside Pathologist or Clinician (e.g. if you are an external requestor with no local co-applicant) then please contact the TBR. Please note that it is not expected that the supporting pathologist or clinician need become formal collaborators on the project, but that appropriate recognition is made depending on the level of assistance provided.
Review Committee: The TBR Review Committee consists of a panel of clinicians and scientists as well as a representative of the Local Research Ethics Committee (LREC).